walkabout
Let's take a break and I'll take you on a walking tour of my "backyard", beautiful Balboa Park in San Diego. I live 3 blocks away, so we'll have time for you to grab a jacket, it's kind of chilly after last night's rains and mist. We'll walk up over the bridge and into the Prado first. There's the spire and dome over ther at the Museaum of Man, one of the most well known vistas in San Diego.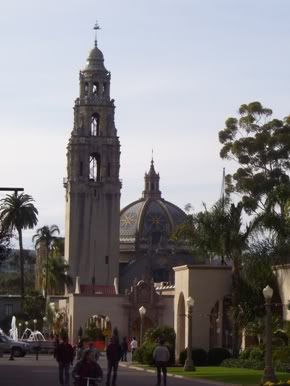 Here we are at my favorite favorite spot in the park, the Japanese Friendship Garden.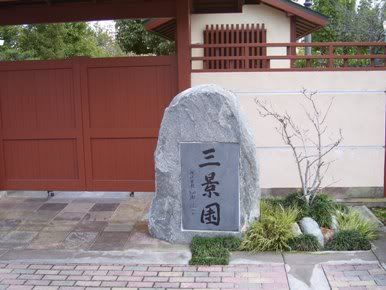 Looks like it's closed for New Year's Day though. Well, I'll have to bring you back another time, just to show you this part of the beautiful park. Here's a little sneak peek through the fence though, at the Wisteria Pagoda.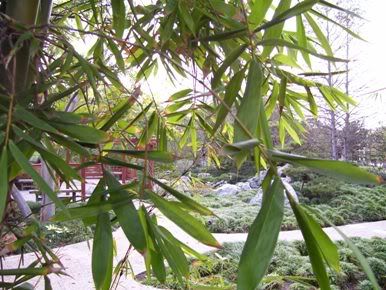 Well, the bell tower over at the spire just rang, sounds like it's 1:00. I'm hungry, how about you? The Friendship Garden may be closed, but the Tea Pavillion looks open! I'm going to have the Teriyaki Salmon Bowl and a cup of Cherry Sakura Green Tea and Red Bean Daifuku. How about you?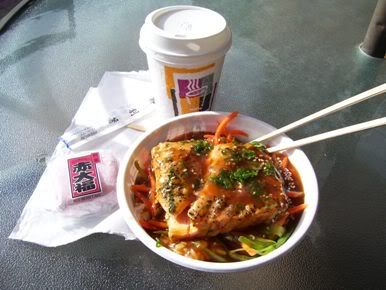 Okay, now that we're all full and sleepy... let's go walk. Look, the clouds are beginning to clear, and it sounds like something is going on over at the Organ Pavillion. Can you hear everyone clapping? Let's walk over.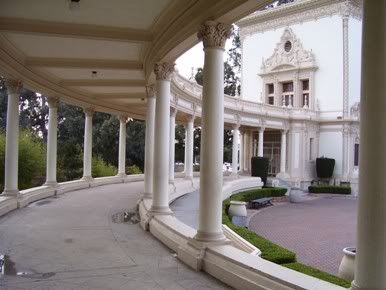 Hey, there's someone playing the big old pipe organ! Crikey that thing is loud!
While we're over on this end of the park, let's go over to one of my favorite walks for a sunny day, Palm Canyon. This place is so beautiful on a sunny day, nice and cool.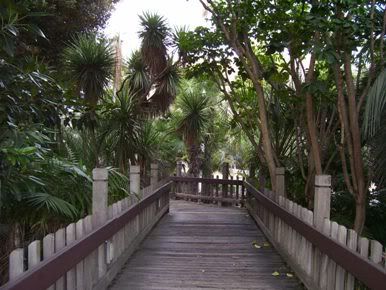 There's the path down, but it looks kind of muddy today after the rain. Let's save that one for another time too. Wish you could've seen this place this summer, those trees were full of big heavy fronds of bannanas. The squirrels here are well fed, trust me!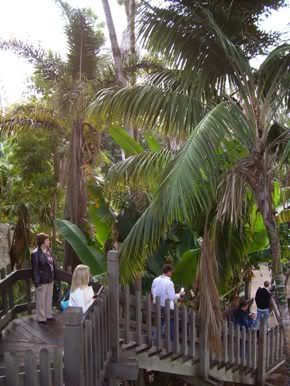 Let's cross over this way and go through the hedge garden. Kind of sparse right now for the winter, but look up there... looks like blue skies coming today at least.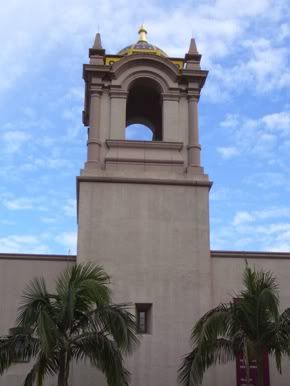 Okay, this way now... off the beaten path. This is another one of my favorite spots. You might miss it for the bigger gardens and museums around here. Just past the Zorro Garden over here, now back this way. Watch out, kind of muddy back here. There we are! The Lovers! My friend Pedro was the one to show me this place, make sure to keep it secret, it's pretty special. Those two trees, they're probably a couple of the oldest ones in the park. So big, so beautiful.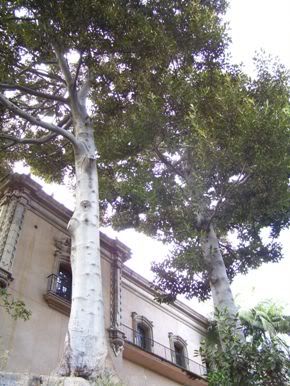 And here's why they're called The Lovers. See how their roots are all intertwined and overflowing this rock wall, like a waterfall? Still holding hands after all these many years.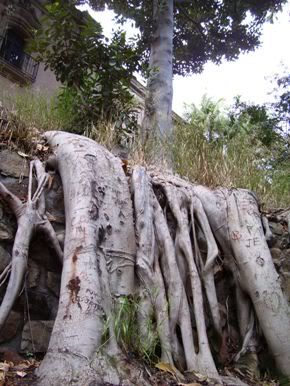 Okay lets head back up to the path. Looks like the fountain is off for cleaning. Wow, you're just going to have to come back and visit another time I guess. But hey, check out some of the details on the frescos over at the Balboa House on the promenade...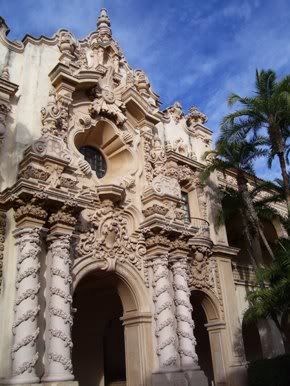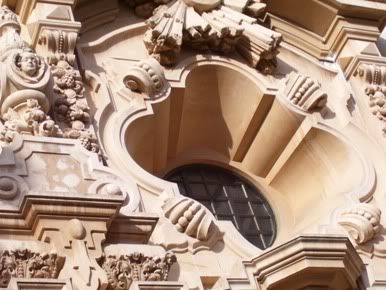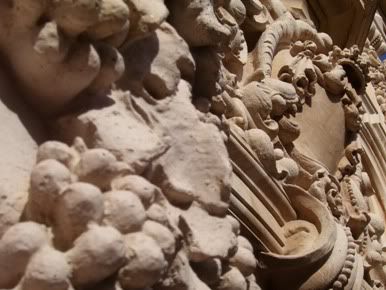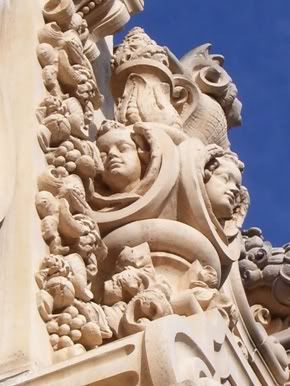 Okay, let's duck inside the portico here and walk over to another of my favorites. (Can you tell how much I love this place? Any wonder why I ended up moving to this neighborhood?)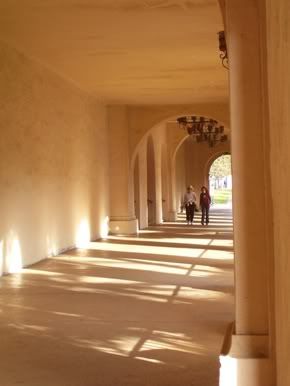 There it is, the Arboretum and Greenhouse. Again, closed. And the lotus' and lillies are all out of bloom for the winter, but you can come back in spring and this place looks like a monet painting, I'm telling you!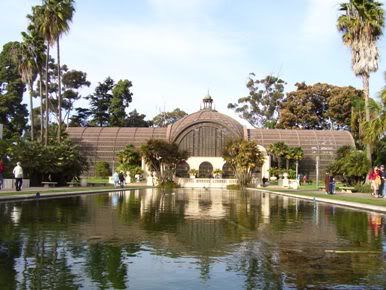 And hey! Look over here, still *some* flowers in bloom here. San Diego seems to have something blooming all year round. These Birds of Paradise over here by the fountain bloom all year round!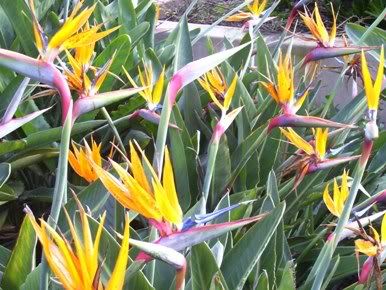 There goes the bell spire again. 2:30 already? See how time flies out here? Let's go see some of the sculptures across the way, outside the Mingei Museum and we'll call it a day.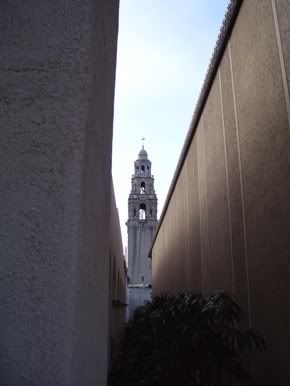 There's The Poet and The Muse, and over there The Dragon. We've caught them at a good time. Usually, all the other kids are climbing all over them. Today, we've got 'em all to ourselves!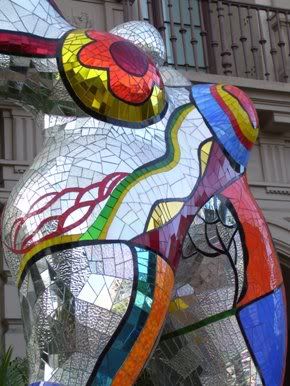 Check out some of the detail on the mosaics!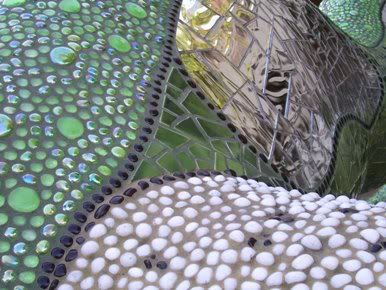 Well my friend, I need to be getting back home. Thanks for coming out with me today! Before we part, and before the batteries on my digital camera die out though, let's leave a little chalk drawing for the people who might walk past this afternoon.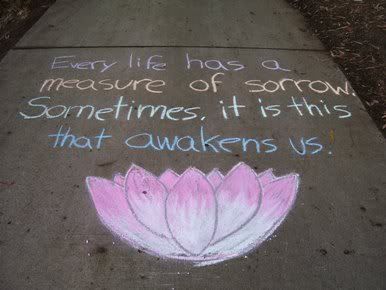 That quote by Jack Kornfield seems to speak volumes for me at the moment, given some of what I've been dealing with these past couple of weeks. Maybe now it will bring some light to someone who passes this way. And here's one of last Spring's lotuses from the water garden.
Here's the chalk my friend, I must be on my way. Send me a photo of what you draw!
Hope you enjoyed our walkabout, Happy New Year from San Diego! We'll continue the adventure another time! Love, bajaboy